In October 2022, Grid Forward (GridFWD) hosted its annual conference for grid-focused energy professionals in Denver, Colorado. The conference's theme, Ensuring a Resilient 21st Century Energy System, reflected our industry's focus on grid modernization.
True to its theme, the conference featured speakers who shared their experiences creating a more resilient grid. One of the most interesting angles for improving resilience discussed at the conference was the importance of localized, boots-on-the-ground, community-based efforts in achieving large-scale, longer-term resilience goals.
Viewed individually, the localized efforts described by the presenters can seem like isolated, one-of-a-kind case studies. However, when viewed in aggregate, these collective experiences take a different shape: that of a practical, bottom-up blueprint for achieving grid-level resilience through actions benefiting those most at risk.
What is Community Resilience?
Every organization and community has slightly different answers to this question. The Federal Emergency Management Agency (FEMA) defines community resilience as the ability of a community to prepare for anticipated natural hazards, adapt to changing conditions, and withstand and recover rapidly from disruptions.[1] This definition alone covers a broad range of risks a community can face, so imagine how challenging it can be to prepare for those risks.
Applying this definition to clean energy requires thinking critically about the infrastructure and resources available as we transition to a decarbonized system. In any given community (e.g., urban, rural), energy systems are vulnerable because of their interactions with other systems (i.e., transportation, housing, emergency response, etc.) critical to the livelihood of that community. So how can we make sure those complex resources are safeguarded? What does resilience mean in the clean energy sphere?
If we view community resilience through a lens of energy-resilient cities/communities, its purpose is a little clearer. The US Department of Energy's Better Buildings program[2] emphasizes strengthening community resilience to help cities maintain essential functions, giving them the ability to recover and enhance the well-being of residents and businesses. The infographic below shows examples of how we can improve resilience for various buildings critical for day-to-day life.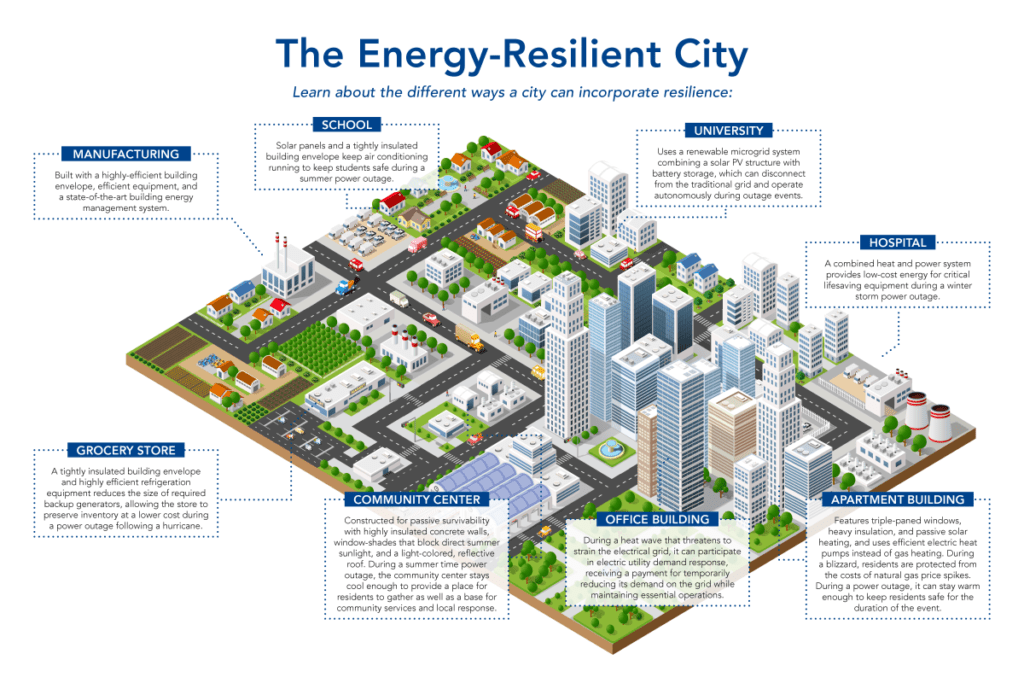 The FEMA definition and the Better Buildings program infographic above are just two examples of improving community resilience through the energy system, but community resilience can take various forms in practice. This was apparent in the other conference sessions we attended at GridFWD.
Community Partnerships
On the first day of the conference, we attended the "Creating Resilience through Community Engagement" huddle session presented by Charity Fain and Sherrie Villmark from Community Energy Project (CEP) and Shiloh Costello from Sacramento Municipal Utility District (SMUD). This session focused on the different mechanisms that community-based organizations, utilities, and stakeholders have used to engage communities and build resilience. It soon became clear to attendees that we all had lots of questions and faced a number of unknowns. Many folks expressed the barriers they've faced when trying to engage with a community. For example, utilities often hold public hearings, but the hearings are poorly attended. Utilities may reach out to community-based organizations (CBOs) to leverage community voices in the stakeholder process, but the CBOs don't have the bandwidth to offer insights at every public meeting.
We often hear about these challenges, but rarely do we hear about potential solutions. Luckily, the presenters for this session offered excellent insights—one from the CBO perspective and the other from the municipality perspective. They encouraged us to go beyond naming our barriers to engagement and dive into developing solutions.
Recommendations for Common Barriers
One recommendation both CEP and SMUD had was to meet communities where they are. In terms of language, this means moving away from technical terminology and industry jargon. Even the titles of public hearing often include jargon, which can discourage community stakeholders from attending and excludes them from the engagement process.
Digital exclusion is another barrier CEP and SMUD addressed. In fact, more than 21 million people in the United States lack access to internet connection:[3] 27% of Americans living in rural areas and 2% of Americans living in urban areas. When utilities administer engagement meetings or public hearings via the web, this creates a barrier for participation for stakeholders, especially people from marginalized communities who often have limited or no access to reliable internet. Reaching these groups requires meeting planners to rethink their outreach strategies to ensure utilities don't further marginalize those voices.
Fain, Villmark, and Costello also emphasized the importance of financially compensating CBOs that consult or participate in community outreach. Typically understaffed, CBOs often have limited financial resources because other program needs take priority. Compensating CBOs for their time shows that their services are valued and encourages future collaboration. Similar to when a utility or organization reaches out to consultants to provide expertise on a subject in exchange for compensation, so should CBOs be compensated for their time, effort, and knowledge.
Another way to tackle barriers to community resilience is to bring in CBO stakeholders during the planning process. Reaching out to CBOs after a plan or strategy is in place is often too late for the CBO to make meaningful contributions. By including them early in the process, CBOs are able to cocreate solutions over a series of working sessions as opposed to expressing their concerns and providing input during intensive stakeholder processes after a solution or program has already been created.
These organizations experience major staff burnout and have limited resources. If multiple utilities reach out to the same handful of CBOs for several different stakeholder engagement meetings at the same time, the CBOs cannot possibly keep up with demand. Including CBOs early in the planning process allows them to prepare for multiple priorities, build schedules, and better balance their staffing.
Building Beyond the Grid
We followed up with Costello after the conference to discuss the Community Impact Plan[4] presentation that SMUD codesigned with the Sacramento nonprofit community. SMUD included the nonprofit community in the development of the Community Impact Plan because they helped shape the strategies to address the current and historical community inequities. One thing that SMUD heard from the community during this process is that there's a need for Cultural Community Ambassadors that would expand the depth and breadth of language translation of program messaging and materials for the community. As a result, SMUD is developing a community education and outreach plan that microtargets under-resourced areas in their customer base. SMUD engaged with the community early and included their insights to develop strategies; this is a prime example of community engagement and building resilience by engaging with the community in advance and integrating them into the process of developing solutions together. The community helps develop the solutions to address the inequities they face and provides historical context and knowledge they have of the issues they face. This background is something that the utility alone may not have because they may not have employees living in the community.
But community resilience goes beyond the grid. As SMUD reiterated, many grid-related issues the community faces overlap with other basic needs in environmental justice communities. Underserved communities not only struggle with access to electricity, but also access to healthcare and transportation. They often live in food deserts and disproportionately deal with the impacts of climate change (e.g., urban heat islands, flooding, air pollution, etc.).
To address the range of inequities that impede community resilience, SMUD takes a neighborhood approach to developing clean energy solutions. In their community partnerships, SMUD focuses on building sustainable communities to care for their customers. They also center equity by design when including the community in the planning process and building solutions to best address their needs.
Addressing Wildfire Hardships through Community Partnerships
Another session we attended, Community Partnerships for Wildfire Mitigation, focused on an issue prevalent across the nation: wildfires. Holly Woodings of United Power, Nate Whittington of Gilpin County, and Paul Ondr of Timberline Fire Protection District presented on the unique partnership that developed among the local utility, the sheriff's office, and the fire department. Together, these organizations engaged with community stakeholders on wildfire risk mitigation for Gilpin County, Colorado, and developed a unique solution that improves their community's resilience.
During a wildfire, response time is critical. Successfully evacuating residents and tackling spreading fire in areas without adequate cellular coverage comes down to a matter of seconds. To help improve response times, United Power and the fire department placed solar-powered wildfire detection devices on existing power poles, which are high risk for wildfires. This placement allows for faster detection and gives the emergency response team access to the utility power poles. All the entities work together to evacuate residents and protect energy system infrastructure that fires would otherwise destroy.
Advancing Wildfire Detection Devices
Companies are working to build early wildfire detection devices and increase community resilience. Pano AI and Delphire shared how they're using artificial intelligence (AI) to send real-time alerts when wildfires are detected. The alert includes dynamic 360-degree panoramic views of the landscape, allowing emergency teams to better understand the situation before arriving on scene and ultimately improving outcomes. These devices can also monitor air quality, have remote sensing capabilities, and integrate cloud-based data storage.
While this kind of cutting-edge technology can improve the livelihood of many communities, it is important that they're accessible. Communities facing wildfire risk must be prioritized. Pano AI has partnered with tribal communities, which are vulnerable to wildfires, to deploy wildfire detection devices. Recently, Pano AI entered into a five-year licensing agreement with the Confederated Tribes of Grand Ronde to provide cameras and training to staff to help with wildfire detection. Pano AI is exploring options to install more cameras and provide similar support to other tribal territories.
Technology's Role in Resilient Communities
To better prepare for wildfires, Portland General Electric is installing 22 high-resolution panoramic cameras from Pano AI. The cameras use AI to detect smoke and fire ignitions and can triangulate a fire within 100 meters. Because Pano AI alerts local fire agencies, the US Forest Service, and local tribes immediately, these agencies can respond more quickly and prevent conflagration. This is a powerful new tool for utilities to monitor their equipment.
Learn more about what utilities in Oregon are doing to reduce wildfire risk. 
Community Engagement: An Essential Piece to Resilience
There are many approaches to building resilient communities, and building solutions with historically underserved communities is critical to transition to equitable clean energy systems. The sessions at October's GridFWD highlight the guiding principles to building resilience. As an industry, we should examine issues around resilience and interactions with the grid when working with clients and developing solutions. We must continue to innovate, engage, and learn from one another as we strive for an equitable clean energy future.
---
[1] FEMA (Federal Emergency Management Agency), Community Resilience, National Risk Index, https://hazards.fema.gov/nri/community-resilience.
[2] DOE (US Department of Energy), "Improve Community Resilience," Better Buildings, https://betterbuildingssolutioncenter.energy.gov/resilience/communities.
[3] Pew, America's Digital Divide, https://www.pewtrusts.org/en/trust/archive/summer-2019/americas-digital-divide.
[4] SMUD (Sacramento Municipal Utility District), Community Impact Plan, https://www.smud.org/-/media/Documents/Corporate/About-Us/Board-Meetings-and-Agendas/2022/Aug/Exhibit-to-Agenda-Item-2—Community-Impact-Plan.ashx.